OUR SECURED BALLOT DROP BOXES: TIMES AND LOCATIONS
Delaware County has a total of 41 secured ballot drop boxes, located in municipalities throughout the county.
Ballot drop boxes accept completed vote-by-mail ballots, by Delaware County-registered voters, approximately three weeks prior to each primary and general election. Ballot drop boxes accept ballots up until 8 p.m. on Election Day.
While most ballot drop boxes will be operational 24/7, some boxes will have limited hours. The exact dates and times that each secured ballot drop boxes will accept ballots will be communicated to voters and the media one month prior to every election day, and all active ballot drop boxes will be listed on this web page.
Note: Unlike the requirement that in-person voters must vote at a specific polling place, Delaware County voters are free to use any secured ballot drop box in the county. No postage is required.
---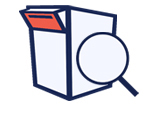 Where can I find a Secured Ballot Drop Box?
Ballot Box Map [FINAL]
Ballot Box List (Pictures) [FINAL PDF]
Ballot Box List (Simple) [FINAL PDF]
---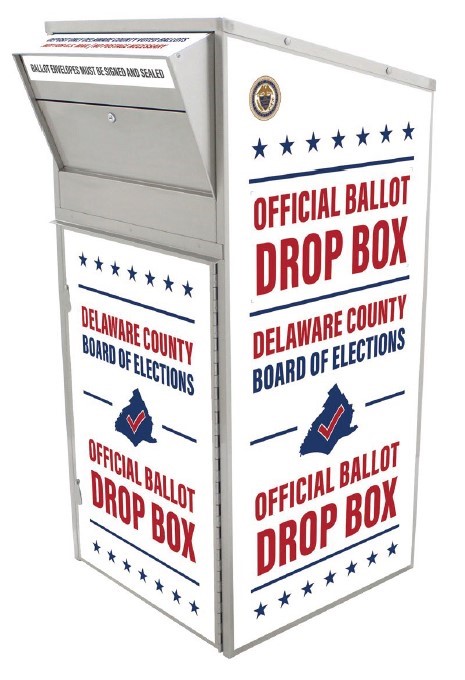 Secured Ballot Drop Boxes: A Closer Look
All voted ballots must be enclosed in the secrecy envelope provided to you, sealed, and placed in the larger return envelope. The return envelope MUST be signed. If the ballot is not placed in the secrecy envelope or sealed properly, or the return envelope is not signed and sealed, the vote will not be counted.
Note: Return of a ballot by anyone other than the voter is prohibited unless the person returning the ballot is rendering assistance to a disabled voter or an emergency absentee voter. Such assistance requires a declaration signed by the voter and by the person rendering assistance. This form is listed below. It can be submitted in-person at a Voter Service Center or mailed to Delaware County Bureau of Elections, 2501 Seaport Dr. Suite BH120 Chester, PA 19013.
Third Party Ballot Delivery for Mail Voting Form
Secured ballot drop boxes can be used 24 hours a day, 7 days a week from the date of operation through 8 p.m. on Election Day.
Note that all secured ballot drop boxes are under 24/7 video surveillance. Counterfeiting, forging, tampering with, or destroying ballots is a second-degree misdemeanor pursuant to sections 1816 and 1817 of the Pennsylvania Election Code (25 P.S. §§ 3516 and 3517.
In the event that this receptacle is full, not functioning, or is damaged in any fashion, please contact the Bureau of Elections at (610) 891-4673 or DelcoElection@co.delaware.pa.us.
---
Delaware County utilizes the "Google Translate" service and accepts no liability for errors or omissions in any translation of the original English text.