Public health authorities are monitoring an increase in RSV detections and RSV-associated emergency department visits and hospitalizations in multiple U.S. regions, with some regions nearing seasonal peak levels.
What is RSV?
Respiratory syncytial (sin-SISH-uhl) virus, known simply as "RSV," is a common respiratory virus that usually causes mild, cold-like symptoms. RSV is the most common cause of bronchiolitis (inflammation of the small airways in the lung) and pneumonia (infection of the lungs) in children younger than 1 year of age in the United States. Almost all children will have had an RSV infection by their second birthday.
While RSV can affect individuals of all ages (most people recover in a week or two), it can be especially serious for infants, children and older adults.
RSV Symptoms
People infected with RSV usually show symptoms within 4 to 6 days after getting infected. Symptoms of RSV infection usually include:
Runny nose
Decrease in appetite
Coughing
Sneezing
Fever
Wheezing
These symptoms usually appear in stages and not all at once. In very young infants with RSV, the only symptoms may be irritability, decreased activity, and breathing difficulties.
While there is no specific treatment for RSV infection, there are steps that can be taken to relieve symptoms.
Manage fever and pain with over-the-counter fever reducers and pain relievers, such as acetaminophen or ibuprofen. Never give aspirin to children!
Drink enough fluids. It is important for people with RSV infection to drink enough fluids to prevent dehydration (loss of body fluids).
Talk to your healthcare provider before giving your child nonprescription cold medicines. Some medicines contain ingredients that are not good for children.
Protect Your Child from RSV
Here are some simple steps to help protect yourself or your child from RSV:
Avoid close contact with sick people
Wash your hand often
Cover your coughs and sneezes
Avoid touching your face and unwashed hands
Clean and disinfect surfaces
If you're sick, stay home
Serious Health Problems
Healthy adults and infants infected with RSV do not usually need to be hospitalized, but some people with RSV infection, especially older adults and infants younger than 6 months of age, may need to be hospitalized if they are having trouble breathing or are dehydrated.
To learn more about Respiratory Syncytial Virus (RSV), what the symptoms are, and how to prevent it, visit the CDC's Respiratory Syncytial Virus Infection (RSV) web page.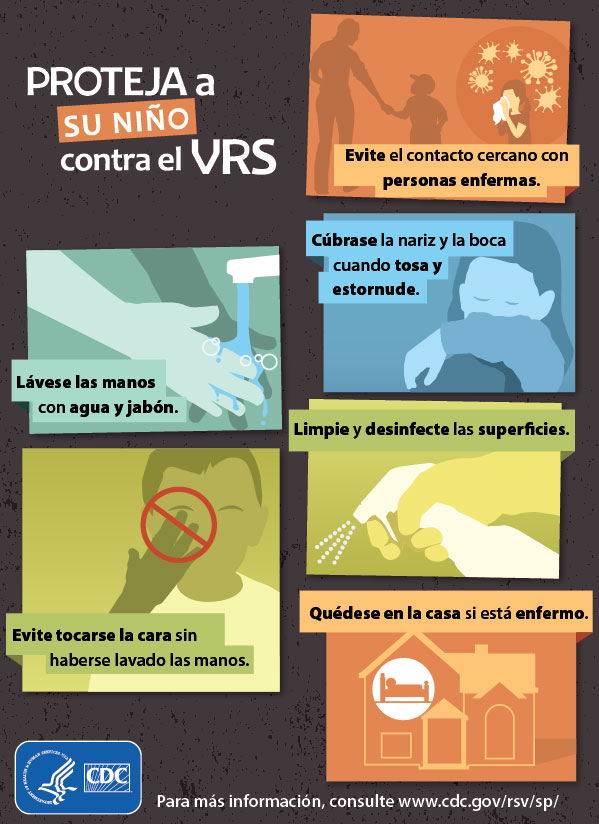 Resources:
What is RSV? - CDC
Symptoms of RSV - CDC
RSV in Infants and Young Children - CDC
How does the RSV Spread? - CDC
RSV Prevention - CDC
Treatment for the Flu - CDC
RSV Fact Sheet - English - CDC
RSV - Ficha técnica Adulto - CDC
RSV - Hoja informativa Niños - CDC
---
For more information and assistance, the Delaware County Health Department Wellness Line is available 24 hours a day, 7 days a week. In addition to responding to phone calls, the Wellness Line also responds to email inquiries.
Phone: (484) 276-2100 (Available 24/7)
Email: DelcoWellness@co.delaware.pa.us