DELCO GREEN ways grant program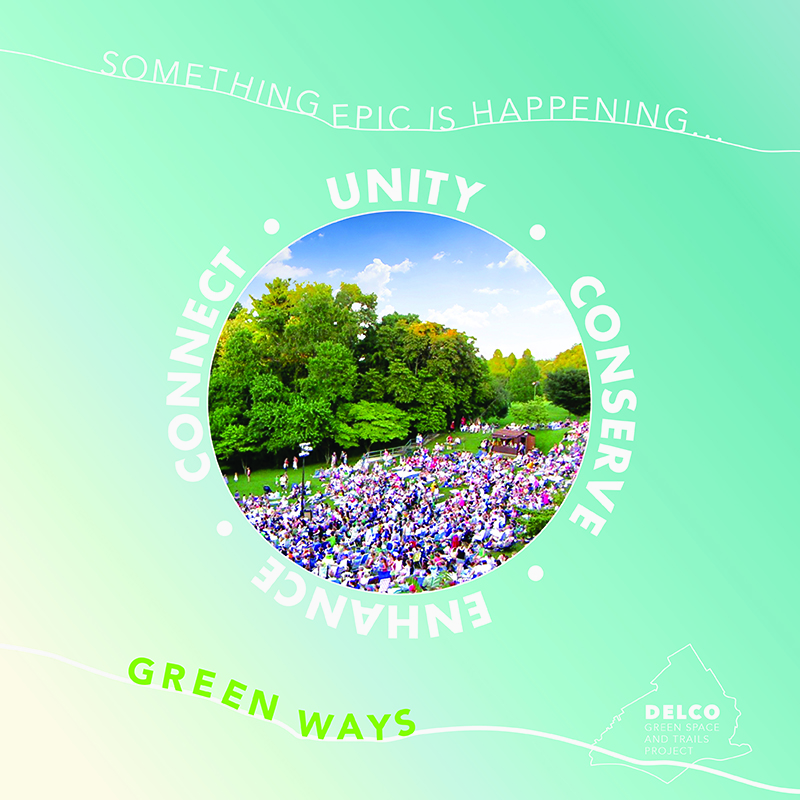 Epic things are still happening in Delaware County! As the Delco Green Ways Grant Program drives the future of green spaces, trails, and recreation for Delco residents, it is elevating the County's parks and open space system as a unified whole. Thank you to all who took the time to apply to Round 3 of the Delco Green Ways Grant Program.
The response to our call for applications for Round 3 of the Delco Green Ways Grant Program was inspiring! Despite the quick turn-around time to complete submissions, the County received 48 grant applications from 39 communities and 2 nonprofit organizations, requesting a total of just under $10 million. The Grant Evaluation Team thoroughly reviewed and discussed all the applications using the criteria described in the Users' Guide.
This year's funding priorities focused on the County's commitment to supporting municipalities with a history of disinvestment and ensuring the County's financial investments were leveraged to the extent practical. In addition to these two priorities, the program continues its support of projects that strategically plan for future needs and projects that demonstrate unity by submitting coordinated, multi-municipal applications.
On December 7, County Council reviewed the Team's funding recommendations to award just under $5 million for projects that will CONSERVE, ENHANCE, and CONNECT communities while thoughtfully PLANNING & DESIGN-ing for our future.
DELCO GREEN WAYS GRANT ROUND 3 AWARDS
We are honored to share the news that Council voted to invest $4.99 million in 24 projects located in 23 municipalities. The Round 3 Green Ways Grant awards breakdown is:
3 Mini-PROS Plan projects, totaling $150,00
3 Planning and Design projects, totaling $242,500
3 Conserve projects, totaling $892,500
5 Connect projects, totaling $1,849,000
10 Enhance projects, totaling $1,857,918
Please download the "Delco Green Ways Grant Round 3 Awards" document for details regarding the Conserve, Connect, Enhance, Planning and Design and Mini-Pros Plan awards.  In addition to this detail, we are delighted to share two EPIC Round 3 highlights:
| | The County's grant awards leverage an additional $5.84 million of outside matching funds, serving as a catalyst for $10.83 million in "on the ground" improvements, and |
| --- | --- |
| | Just over half of round 3's grant funds are devoted to investments in historically disadvantaged communities |
Let's continue celebrating Delaware County's transformative Green Ways Grant program! It is strengthening and unifying Delaware County's local communities by CONSERVE- ing, ENHANCE-ing, CONNECT-ing and thoughtfully PLANNING & DESIGNING for our future. We all benefit from a greener, more connected, modernized, and well- planned County-wide system.
Thank you, again, for sharing your passion projects with us and for participating in Delaware County's EPIC grant program. We look forward to continuing to work together to ensure all these projects become on the ground realities!
GRANT ROUND 3 TIMELINE
September 7, 2022, County opens application period for Delco Green Ways Grant Round 3. All submission materials are available on the County's website.
September 13, 2022, and September 15, 2022, Information sessions for Questions and Answers about the grant round will be held via Zoom.

Click here to see a copy of the power point presentation used at the two Zoom sessions.

October 7, 2022, Application deadline for Round 3 of the Delco Green Ways Grant program.

Mid – late October 2022. Green Ways evaluation team reviews applications and prepares recommendations for Delaware County Council's consideration. Council will review the recommendations, make determinations and announcements at a subsequent public meeting.
ARE YOU READY TO GET STARTED?
Users' Guide
On-line Grant Application
Grant Application Appendices
Appendix A Budget Worksheets
Appendix B Municipal Resolution Template
Appendix C Boilerplate Grant Agreements
Appendix D Certificate of Title Form
Appendix E Declaration of Public Trust, Covenants, Conditions, and Restrictions
Appendix F 1099-S Verification Form
Appendix G Baseline Documentation Report Checklist for Conservation Easements
Appendix H Template Letter of Waiver for Retroactivity
Appendix I Comprehensive Pros Plan Cost Estimate Template
Appendix J Mini-Pros Plan Cost Estimate Template
To see additional information, please visit Rounds 1 and 2 of the Green Ways Grant Program!