Released: July 27, 2022
Delaware County residents now have a new, easier way to connect to behavioral or mental health crisis services.
Starting July 16, 2022, individuals who call, text, or chat with "988" from anywhere in the United States are now directly connected to the same trained, compassionate crisis response counselors that were previously accessible through the long-standing 10-digit* National Suicide Prevention Lifeline, rebranded as the 988 Suicide & Crisis Lifeline.
Modeled after 911, the new three-digit 988 Suicide & Crisis Lifeline is designed to be a memorable and quick number that connects people experiencing a mental health crisis or emotional distress, or are considering self-harm or suicide—and people seeking crisis help for their loved ones—to access an enhanced network of trained compassionate professionals able to provide help with greater ease.
When 988 is contacted, individuals are automatically connected to a crisis call center in Pennsylvania, and crisis response professionals can help immediately by talking through the situation over the phone, sending help to provide in-person support, or connecting the caller directly to local resources, such as transportation for further evaluation, and referrals for relevant resources, ongoing care, and follow-up services.
By comparison, 911 works by dispatching fire, EMS, law enforcement to intervene and help the caller. With 988, the contact IS the intervention, and help can be immediate.
Who can call 988?
988 Suicide & Crisis Lifeline services can be used by anyone, any time (24 hours a day, seven days a week), at no cost to the caller. For more information, visit the 988 Suicide & Crisis Lifeline website at https://988lifeline.org/.
Delaware County residents can also find links for mental health services and resources from the Department of Human Services' Office of Behavioral Health via the Delaware County Health Department website at delcopa.gov/mentalhealth.
* The previously available National Suicide Prevention Lifeline phone number (1-800-273-8255) will remain operational for the foreseeable future.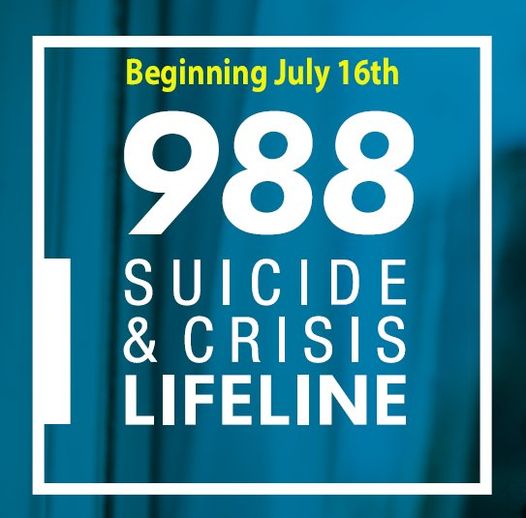 ---
For more information and assistance, the Delaware County Health Department Wellness Line is available 24 hours a day, 7 days a week. In addition to responding to phone calls, the Wellness Line also responds to email inquiries.
Phone: (484) 276-2100 (Available 24/7)
Email: DelcoWellness@co.delaware.pa.us