Released: July 29, 2022
The Delaware County Health Department's (DCHD) West Nile Virus Control program will conduct an Ultra-Low Volume (ULV) mosquito adulticide spray in sections of Yeadon Borough on Monday, August 1, 2022. Residential and recreational areas within the treatment zone will be treated to control adult mosquitoes. See the map below for specific locations.
The Delaware County Health Department will perform the treatment using truck-mounted spraying equipment. For resident safety and information, the business license 'BU3865' will be visible on department equipment. The product used will be Duet, applied at a rate of .75 ounces per acre, designed to provide quick and effective control of adult mosquitoes.
"This planned spray is the result of the identification of positive mosquito pools and a high vector index (VI) in the area," said Delaware County Health Department Director, Melissa Lyon. "A vector index greater than 300 determines the planning of larvicidal treatment sprays to address the presence of West Nile positive pools."
West Nile virus is an infection that is spread by infected mosquitoes biting humans that can cause neurologic symptoms. Many people who are infected with West Nile virus do not develop symptoms, however, one in five people infected will develop flu-like symptoms and fever. Unexplained headaches, weakness, and fatigue are symptoms of West Nile virus and those who experience these symptoms should reach out to their primary care provider.
Treatment will take place during the evening of Monday, August 1, 2022, starting at 8:00 pm and concluding by 11:30 pm, if weather and environmental conditions remain suitable for the operation. In the event of weather or other unexpected delays, a rain date is scheduled for Wednesday, August 3, 2022.
Individuals are encouraged to take personal protection measures to avoid getting bitten by mosquitoes. To protect themselves and to help prevent the spread of West Nile virus, residents are also encouraged to remember the 'Three D's':
DRAIN - Buckets, flowerpots, pet water dishes, clogged rain gutters, and other sources of standing water outside your home
DRESS -Wear long-sleeved shirts and long pants when you're outdoors, weather permitting
DEFEND- Wear insect repellent with DEET, Picaridin, or Oil of Lemon Eucalyptus on exposed skin when outdoors
To report mosquito problems or for more information on how to prevent West Nile virus, visit, call, or email:
The Delaware County Health Department West Nile information page
The Delaware County Health Department Wellness Line: (484) 276-2100
Email: Environmental@co.delaware.pa.us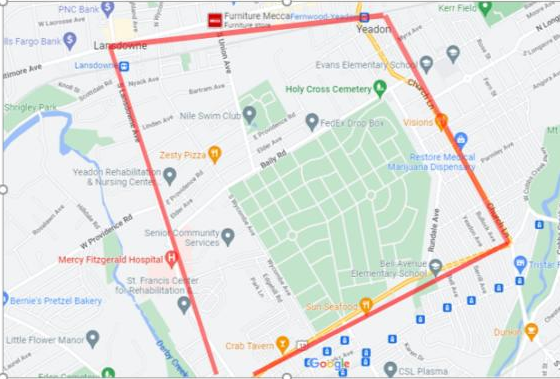 DCHD Larvicide Spray Map Spraying will take place along this route on the evening of Monday, August 1, 2022. For more information, please call 484.276.2100
---
For more information and assistance, the Delaware County Health Department Wellness Line is available 24 hours a day, 7 days a week. In addition to responding to phone calls, the Wellness Line also responds to email inquiries.
Phone: (484) 276-2100 (Available 24/7)
Email: DelcoWellness@co.delaware.pa.us