Due to the evolving Novel Coronavirus (COVID-19) pandemic in our region, Delaware County is taking measures to keep the public and county employees safe by minimizing social contact.
During this time, we are using email as the primary method of communication. Please refer to our staff directory link here or leave a message at 610-891-5425. If you are not able to conduct business online, staff is available by appointment.
The mission of the Office of Housing and Community Development (OHCD) is to promote sound housing and community development in Delaware County with the use of federal, state and local resources. OHCD is responsible for the planning, administration, and oversight of three federal programs: the Community Development Block Grant (CDBG), HOME Investment Partnerships (HOME) and Emergency Solutions Grants (ESG) Programs. The office is also charged with oversight of state initiatives funded through the Pennsylvania Department of Community and Economic Development and County initiatives, as funds become available.
Recent Updates and Announcements
The DELCO Emergency Rental Assistance (DELCO ERA) grant program helps renters who suffered disruption and loss of income due to the COVID-19 pandemic with assistance with rent and utilities. The U.S. Treasury and Commonwealth of Pennsylvania allocated $37.2 million to fund DELCO ERA. Apply here https://delco-era.com/.

NOTICE - Proposed 2021 Housing and Community Development Plan

The Delaware County Council approved the Proposed List of Awards for the FY 21 Annual Action Plan on Wednesday, March 17, 2021.  Learn more here.

Public Comment
Delaware County, in accordance with Federal regulations, is posting this notice to afford interested citizens and organizations the opportunity to comment on the above.  Citizens may submit their comments through U.S. mail or via email through April 26, 2021 and should be directed to ohcd@co.delaware.pa.us  or:

Delaware County Council
c/o Office of Housing and Community Development
600 North Jackson Street, Suite 101
Media, PA  19063
(610) 891-5425     TDD 1-800-654-5984

In addition, the County will hold a public hearing on Wednesday, April 21, 2021, as part of the regularly scheduled County Council meeting, beginning at 6:00 p.m. The purpose of the hearing is to solicit citizen comment on the Proposed Annual Plan.

In the event that the meeting is held virtually, the County will live stream the hearing at https://delcopa.gov/council/meetings.html. Public comment will be accepted until the meeting is adjourned and can be submitted via email to PublicComment@co.delaware.pa,us. The public comments will be read into record during the meeting and Council will respond if warranted. If you do not have access to email you can call in your public comment: 610-891-4931. Please give your name, address and public comment. Your comment will be transcribed and read into record. Emailed or phoned-in comments deemed inappropriate will not be read into public record.

Delco CARES Housing Assistance Program

Rent, mortgage and utility assistance is now available through the Delco CARES Housing Assistance Program to qualified renters and homeowners in Delaware County who have been financially impacted by the COVID-19 pandemic.

For mortgage and utility assistance, please contact:
Persons who are homeless or renters at risk of losing their housing should contact: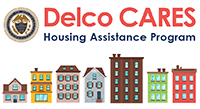 The Delaware County Lead Hazard Reduction Program (LHRP)
Did you know that qualified homeowners, landlords, and renters can improve the safety of their properties and homes by testing for and remediating lead paint? Learn more about this grant program here.