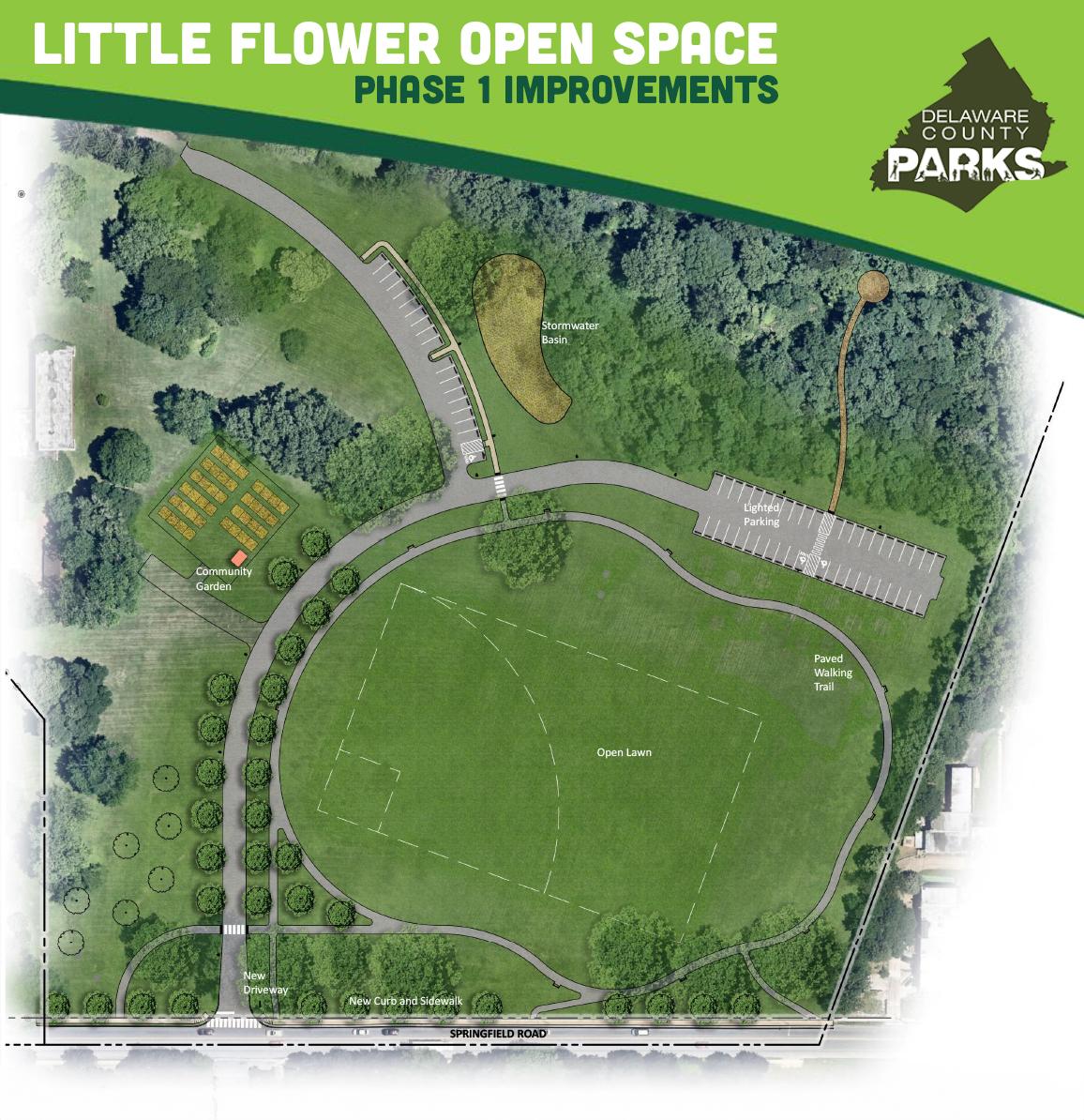 July 14th, 2023 Groundbreaking!
On July 13, members of Delaware County Council and other elected officials joined members of the County's Parks and Recreation Board, Parks and Recreation Department, and Public Works Department at a groundbreaking for the future park adjacent to the Sisters of the Divine Redeemer's Little Flower Nursing Home in Darby Township.
The as-yet named 33-acre park, referred to as simply "Little Flower" or "Little Flower Open Space," will be the County's newest park, providing much needed public green space for the local community.
The property of Little Flower once served as an encampment for British soldiers during the Revolutionary War and remains one of larger undeveloped tracks along the Great Minquas Path used in the pre-colonial beaver pelt trade between the Lenni-Lenape and European settlers. It has long provided the community with green open space, though not much accessibility to the public.
Recognizing the inherent natural beauty and historical significance of the location, Delaware County officials worked with the late State Rep. Nicholas Micozzie and community leaders and elected officials from Darby Borough, the Borough of Clifton Heights, Upper Darby Township, and the Borough of Collingdale to purchase the land in 2016, with help from State grants obtained with input from Natural Lands.
The County's Planning Department then worked to create a park master plan, which included extensive public engagement of local citizens and officials. Residents strongly supported the creation of a park over the possible commercial development of the space.
This current phase of work — assisted with a generous grant in the amount of $300,000 from the Pennsylvania Department of Conservation and Natural Resources (DCNR) — will allow for the creation of the park's core infrastructure. JMC Contractors will complete the construction of the Phase 1 improvements informed by drawings from the Engineer of Record, Pennoni.
Work to be done this year will include:
Installation of a new driveway entrance
New ADA compliant parking
New Lighting
Installation of a paved walking trail
Improved path into the woods to an overlook
Creation of a community garden
The addition of shade trees
Stormwater management features