Released: December 9, 2022
Delaware County has awarded almost $5 million in new Delco Green Ways Grants, the third time the County has issued funding for projects and programs that advance the County's 2035 Open Space, Recreation and Greenway plan goals: Conserve, Enhance, Connect.
The Green Ways program, authorized in 2016 and launched in 2019, makes funds available to municipalities and non-profit organizations working with municipalities, for projects that will improve the quality of life of county residents, workers and visitors. This year, 24 projects, representing 22 municipalities and two non-profits, will receive a total of $4,991,918 in funding for grants ranging from $33,667 to $500,000 and leverage an additional $5.84 million in funding.
"With this third round of Delco Green Ways Grants, Delaware County continues to invest in making our communities more vibrant, amenity rich places to live and work," said Gina Burritt, the Director of the Delaware County Planning Department. "The large number, scale and diversity of the proposed projects, and those that were funded, show just how important this program is and how even a little bit of help can go a long way.
For this third round of Green Ways Grants, forty-eight applications from thirty-nine municipalities and two nonprofits were received by the October 7, 2022 deadline, requesting a total of $10 million. The Evaluation Team members dedicated significant time to reviewing each application and additional time in group work sessions discussing the strengths, weaknesses, and opportunities presented by each submission. The Team's discussions and recommendations were organized around County Council's funding priorities established earlier this year to support communities with a history of dis-investment and to ensure Green Ways Grant funds were leveraged to the greatest extent possible.
Green Ways Round Three recipients include: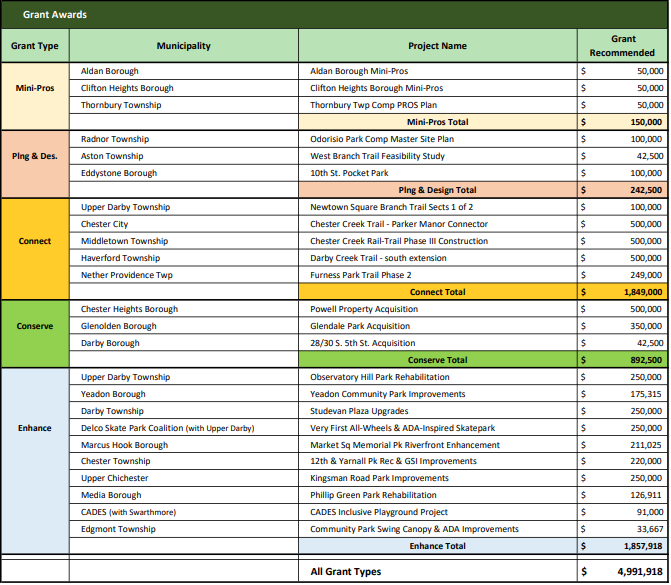 In October 2019, the inaugural Green Way Grants awarded $4.5 million –– leveraging $20 million in matching funds –– to the 26 municipalities who applied, totaling 38 grants. In 2021's round 2 there were 43 projects funded, including one non-profit and 38 municipalities. A total of $7,172,521 was invested throughout Delaware County and leveraged an additional $7,892,683.
For more information about this year's winners, as well as previous years', please visit https://delcopa.gov/planning/greenspace/GreenSpaceGWGP.html
---