Volume III: County Parks and Recreation Plan
Delaware County Open Space, Recreation, and Greenway Plan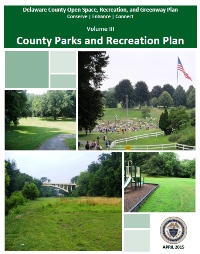 Date Published: April 2015
Due to the size of this volume, it is separated into the following files for convenient download:
Cover, Acknowledgements, Table of Contents, and Chapter 1: Overview and Needs Analysis of County Parks and Recreation [1.8 mb]
Chapter 2: Clayton County Park [13 mb]
Chapter 3: Glen Providence County Park [13 mb]
Chapter 4: Kent County Park [11.7 mb]
Chapter 5: Rose Tree County Park [13.4 mb]
Chapter 6: Smedley County Park [15.4 mb]
Chapter 7: Upland County Park [13.4 mb]
Appendices [1.8 mb]
Abstract:
The Open Space, Recreation, and Greenway Plan serves as a guide and resource for countywide, multi-municipal, and municipal open space planning efforts. It examines the policies and trends identified in the Delaware County 2035 Land Use Framework Plan with particular regard to open space, recreation, and greenway needs and opportunities specific to the County.
Volume III specifically examines the Delaware County Parks and Recreation system, and includes long range site development drawings and accompanying narratives for several of the major County parks.
Geographic Area:
Countywide
For more information or to order this report, contact the Department at 610-891-5200 or Planning_Department@co.delaware.pa.us.