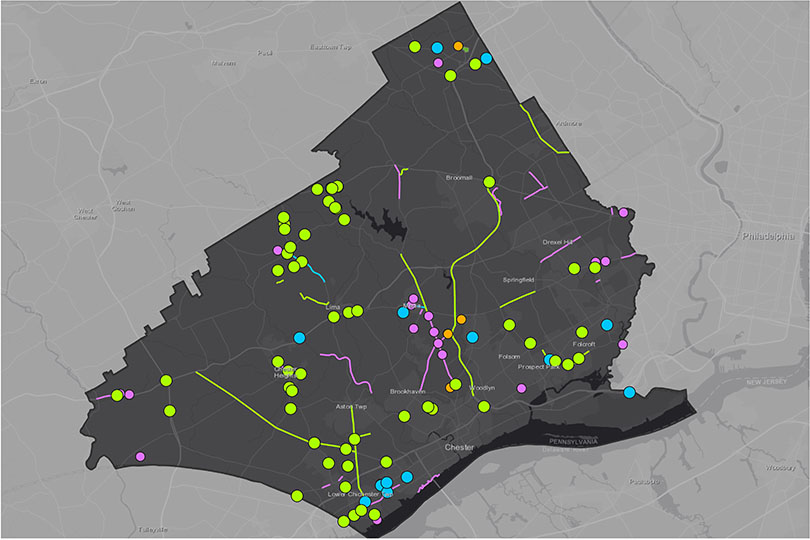 Interested in learning more about the Delaware County Transportation Improvements Inventory? Check out our interactive map! (Browsers other than Internet Explorer or Microsoft Edge are recommended for optimal performance.).
In 2018 the Planning Department started what is known as a Transportation Improvements Inventory (TII). The TII is a record of documented transportation needs within Delaware County. The TII includes bicycle/pedestrian, bridge, public transit and road projects that have been shared with the Delaware County Planning Department over time. The inventory is a way for the Planning Department to prepare proposals for the Delaware Valley Regional Planning Commission's Transportation Improvement Program and help connect municipalities with funding opportunities as they become available. The TII is not a commitment for funding. The TII is a tool that will help the Planning Department and municipalities in the following ways:
| | | |
| --- | --- | --- |
| | a) | prioritize projects for funding in each category of projects |
| | b) | advocate for resources to improve the quality of transportation across Delaware County |
| | c) | provide planners with a list of municipal needs so that when opportunities for implementation arise, the planning department can direct municipalities to those resources and opportunities |
The first edition, the 2018-2019 Delaware County Transportation Improvements Inventory (TII), includes projects submitted by seventeen municipalities and Delaware County residents through the survey undertaken as part of the Delaware County Transportation Plan in 2017. There are a total of more than 140 projects in the first edition of the TII. An interactive map of the 2018-2019 TII is available on the Delaware County Planning Department Mapping Portal.
The second edition of the TII is underway. Over one hundred projects were submitted for the 2020-2021 TII. We are currently conducting field surveys and gathering relevant existing planning data for each project submission. We are also working on an interactive story map for the 2020-21 TII which will be unveiled at the end of the year.
Both the 2018-19 TII and the 2020-21 TII will be the basis of a long-term Transportation Project Tracking database. The Planning Department will be able to use this database to stay up-to-date with the status of projects on the TII as they are implemented.  We look forward to assisting municipalities in Delaware County!
Questions about the Transportation Improvements Inventory? Contact the Planning Department at 610-891-5200 or Planning_Department@co.delaware.pa.us.