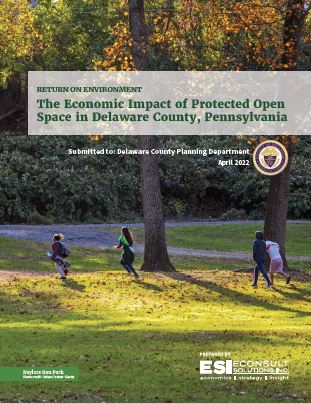 Date Published: April 2022
Delaware County Return on Environment – Report [PDF File, 53.8 mb]
Executive Summary [PDF File, 3.2 mb]
Have you ever wondered about the economic value of green space in Delaware County? What's the economic benefit of investing in preservation over development? Does access to green space and trails increase my property value, and if so, by how much? Do green spaces and trail access drive economic activity and tourism to Delco? And what's the economic benefit to public health?
With many competing needs and limited resources, justifying public spending has never been more rigorous. Research tells us that investing in green spaces, trails, and recreation improves all aspects of community wellness and provides excellent economic returns, but we also know that the impact on Boulder Colorado is certainly going to be different from the impact on Ridley Park, Pennsylvania.
To better understand how these investments specifically impact Delco, the County developed a study with the Delaware Valley Regional Planning Commission and their consultants at Econsult Solutions Inc. to get the full story as it applies specifically to Delaware County. The project was inspired by a 2011 study developed for the greater Philadelphia five-county region. It was funded in part through a grant from the PA Department of Conservation and Natural Resources. The final report, titled "Return on Environment: The Economic Impact of Protected Open Space in Delaware County, Pennsylvania" was completed in April, 2022, and includes an outline of the history of green space in Delaware County, the County's vision for the future, and six case studies demonstrating the economic value of green space in the County's diverse communities.
The economic analysis shown in this study is critical to understanding the true value and impact of the policies and initiatives that support open space preservation. The report estimates the economic value of protected open space in Delaware County by measuring impacts across four areas:
1. Economic Activity impact
It is estimated that open space-related activities generate an estimated total of $52 million in annual economic impact.
2. Environmental Services Benefits
$6.2 million is avoided annually Countywide for stormwater system maintenances.
3. Direct Use Benefits (Recreation and Health)
There is $142.6 million in annual recreation benefits to residents, & $153.4M medical costs avoided annually Countywide.
4. Home and Property Value Impact
There is an accumulated $689 million added Countywide to the value of housing stock located within a ½ mile from protected open space.
The six case studies in the Report examine and explore the value that users and residents in places all around the County benefit from public green space. The case studies are:
1. The Property formerly known as Don Guanella in Marple Township, owned by Delaware County (Environmental Services Impact)
2. The County's Chester Creek Trail in Middletown and Aston Townships (Direct Use Impact)
3. Rose Tree County Park in Upper Providence Township – focusing on the Summer Festival Concert Series (Economic Activity Impact)
4. Haverford Township's Andy Lewis Community Park (formerly known as the Haverford Reserve) (Environmental Services Impact)
5. Upper Darby Township's Naylors Run Park (Direct Use Impact)
6. The City of Chester's Veterans Memorial Park (Direct Use Impact)
The report concludes with a Strategic Action Plan with the next critical steps for advancing the concept that funding for green space, parks, recreation, and trails in Delaware County is an investment - not a cost. The benefits presented in this report provide information to elected leaders, policy makers, and the general public on the value of protected open space and can contribute to informed decisions concerning both preservation and development in the County.
Questions about the Delaware County Return on Environment Study? Contact the Planning Department at 610-891-5200 or Planning_Department@co.delaware.pa.us.