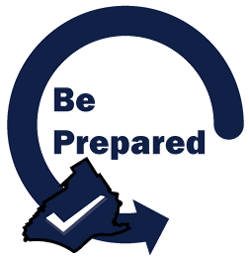 Be PREPARED - Plan Ahead
Delco Emergencies Preparedness Guide
Create an Emergency Plan - Make a plan today. Your family may not be together if a disaster strikes, so it is important to know which types of disasters could affect your area.  Know how you'll contact one another and reconnect if separated. Establish a family meeting place that's familiar and easy to find. Once the plan is made, don't forget to practice your plan!
Create a Family Communication Plan - Creating your Family Emergency Communication Plan starts with one simple question: "What if?" "What if something happens and I'm not with my family?" "Will I be able to reach them?" "How will I know they are safe?" "How can I let them know I'm OK?" During a disaster, you will need to send and receive information from your family. Communication networks, such as mobile phones and computers, could be unreliable during disasters, and electricity could be disrupted. Planning in advance will help ensure that all the members of your household—including children and people with disabilities and others with access and functional needs, as well as outside caregivers—know how to reach each other and where to meet up in an emergency
Family Emergency Communication Plan - Create a List of Emergency Contacts for all family members - Download and Fill in using this template - in PDF
Build A Kit - Make sure your emergency kit is stocked with the items on the checklist below. Most of the items are inexpensive and easy to find, and any one of them could save your life.
Printable Emergency Supply List in PDF
What is my evacuation route? A wide variety of emergencies may cause an evacuation. In some instances you may have a day or two to prepare, while other situations might call for an immediate evacuation. Planning ahead is vital to ensuring that you can evacuate quickly and safely, no matter what the circumstances
What is my Shelter in Place plan? Shelter in place is to seek safety within the building one already occupies, rather than to evacuate the area or seek a community emergency shelter.
Emergency Financial First Aid Kit
Take time now to safeguard these critical documents.
Document and insure your property now
Emergencies and Individuals with Disablilies
How do I find an Emergency Shelter?
Prepare Your Pets for Disasters