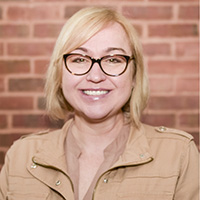 Francine Locke
Chief Sustainability Officer



Francine came to Delaware County in January 2021 to lead the sustainability efforts of the County.

Francine comes from the School District of Philadelphia where she served as the Director of Sustainability and Green Schools, and prior to that, Environmental Director. During her 16-year tenure with the District, her leadership in the development and implementation of GreenFutures, the District's sustainability plan, received multiple awards including the US Department of Education Green Ribbon Award, the Pennsylvania Governor's Environmental Excellence Award, and a Project Green Schools Award.

Francine earned a Bachelor of Science in Biology and a Master of Science in Environmental Health, both from Temple University. She is presently a Doctor of Health Science student at Drexel University where she is focusing her research on environmental exposures to vulnerable populations.