The Chester Economic Development Authority, and Delaware County, are jointly applying for Rebuilding American Infrastructure with Sustainability and Equity (RAISE) Planning Grant. They are requesting $4million to support a community driven transportation action plan and design solutions for the major transportation corridors of Chester City in southeastern Delaware County.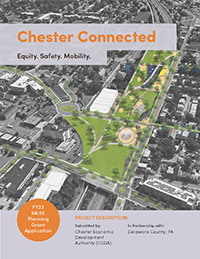 Chester Connected is a comprehensive planning study that seeks to unify decades of isolated planning efforts, resulting in a community-based action plan and the design of priority projects Across two phases Chester Connected will empower residents to unify decades of isolated planning efforts and establish a vision and action plan with shovel ready projects for their city. This will enable Chester and its regional partners to pursue additional funding quickly and efficiently from federal, state, and other sources. The resulting projects will create and improve safety, mobility, and access to local jobs in this historically disadvantaged community; the results of which will be felt across the region.
Human-Focused Planning Decisions: Chester is an area of persistent poverty, with more than 30% of residents below the federal poverty line. The majority of residents are also Black (70%) and/or Hispanic (10%). The history of Chester is a clear example of the racial inequities created and/or exacerbated by the introduction of the interstate system. To support a thriving community today, action must be taken to overcome the impacts of the interstate and subsequent transportation investment that bypassed and isolated Chester.
Environmental Justice: Chester residents face the impacts of land uses that reduce air quality, contribute significant noise, create barriers to mobility, and reduce the overall quality of life in the city. Priority implementation projects from this study will help reduce mobile emissions, while an environmental justice focus will create an opportunity to engage with residents and develop a vision that guides the city toward an improved future for static emission sources as well.
Meaningful Community Engagement: Chester Connected will begin with a focused phase of engagement that builds local capacity through intentional partnerships. This will establish the foundation for engagement in all phases of the planning study. This approach aims to better empower local voices, meaningfully engage residents in a divided city, and build capacity for continued collaboration.
Coordinated Agency Decision-Making: Chester Connected will enable greater coordination among the many agencies involved in the region, providing a platform to understand competing priorities, identify opportunities to advance overlapping objectives, and approach decisions through a consensus-based process.
Local Connections and Regional Demand: I-95, I-476, rail, and state routes limit mobility and connectivity, impede access to the waterfront and neighborhoods, and isolate residents relying on walking, biking, and public transportation. Yet they also support significant regional transportation demand. A future vision for Chester must include these assets and explore ways to reduce congestion while also reknitting community connections.
Chester Connected: RAISE planning grant application documents
Project Description
Project Location File
Project Budget
Funding Committments
Merit Criteria
Project Readiness
View the Supporting Plans and Letters of Support here.
Questions about Chester Connected? Contact the Planning Department at 610-891-5200 or Planning_Department@co.delaware.pa.us.