Delaware County Council partnered with the Delaware County Chamber of Commerce to present the 2019 State of the County address at the Drexelbrook on April 26. This year's theme was "Expansion and Advancement Across the County" with a focus on new development and businesses throughout the County, open space, and addressing concerns from the public.
Every year, Council presents a State of the County address that is positive and optimistic about the County's past accomplishments and future visions.
During this year's address, Council highlighted the economic success of the County, including its high-grade rating of Aa1 from Moody's Investors Service and AA from Standard & Poor's Ratings Services. Moody's praised the County's tax base, which is excellent news for economic development, and for businesses who are looking to locate or expand in Delaware County.
Council unanimously approved a 2019 budget that decreases property taxes while maintaining services for residents.
For the 24th consecutive year, The Delaware County Controller's Office was awarded a "Certificate of Achievement for Excellence in Financial Reporting" by the Government Finance Officers Association of the United States and Canada. The recognition was for the 2017 Comprehensive Annual Financial Report. The Certificate of Achievement is the highest form of recognition in the area of governmental accounting and finance reporting and represents a significant accomplishment by government.
The address featured some of the major developments across the County including the Granite Run Promenade, Ellis Preserve, AmeriHealth Caritas relocating to Ellis Preserve and Kimberly Clark's new natural gas power plant, a $150 million investment into its Chester facility.
Out of the five surrounding counties in our region, Delaware County saw the largest hotel growth in 2018. The occupancy rate rose 3.9% and revenue increased 16.3% to $102.2 million.  
Delaware County's unemployment rate is currently 3.6%, down from last year and also below the state's rate of 4%.
Council also commended members of the small businesses community, who contribute tremendously to the economic success of Delaware County, noting that small businesses are the backbone and strength of our community.
Open Space was also a topic featured during the address. Delaware County works to preserve its natural resources for environmental protection and for recreational use. Open space, parks, and recreational areas are assets that draw people to a community and enhance their quality of life, encouraging them to want to stay. Delaware County's Planning Department works with municipalities and other partners, such as the Natural Lands Trust, to preserve communities while promoting smart growth through the Delaware County Open Space, Recreation and Greenway Plan.  The County has 12 county parks and 1,824 acres of county-owned open space, in addition to 2,721 acres of state-owned open space, mainly Ridley Creek State Park, and 713 acres of federal land in Heinz Refuge. The County's municipalities have 4,654 acres of open space and parkland. There are countless scenic settings across the County for residents to enjoy the outdoors.
Council recently approved a Master Park Plan for the County's newest park, Little Flower in Darby Borough. The plan sets forth a roadmap for the park to provide recreational opportunities while respecting the environmental integrity of the site and serves as a trailhead for the Darby Creek Stream Valley Park Trail, a segment of the Darby Creek Greenway. Major features of the first development phase include a new primary entrance, construction of a new path along Springfield Road, a walking trail loop, two picnic areas, and a community garden. Council also continues to work with stakeholders to stabilize the severely deteriorated historic Woodbourne Mansion located on this site. Council intends to pursue the development of a preservation plan for the building.
Work on the trail network continues, as design and engineering work is well underway on Phase II of both the Darby Creek and Chester Creek Trails.
Council also addressed the opioid addiction crisis and provided an update on the efforts of the Delaware County Heroin Task Force. Since the Task Force was formed in 2012 by County Council and the District Attorney's Office, it has accomplished a great deal and continues to fight the grip of this devastating epidemic. The County is beginning to see a decrease in drug deaths. In 2017 there were 278 drug-related deaths. Of those, 257 were opioid-related. In 2018 there were 209 drug-related deaths. Of those, 155 were opioid-related.
In 2014, Delaware County's District Attorney fought to have state law changed so that Delaware County police officers, who are often the first to arrive on the scene of an overdose, can administer the lifesaving drug, Narcan. Since then, more than 1,400 people have been saved, and are now connected with treatment and recovery resources through the County's Certified Recovery Specialist Program. Within the last few months, Narcan has also been installed in all County Buildings, at the Ridley Area and Lansdowne YMCA's and most recently at Delaware County Community College.  Narcan is readily accessible to the public at those locations and is located in automated external defibrillator (AED) cabinets, enabling anyone who is nearby an overdose victim to potentially save their life.
Over the past year, Council has also addressed a variety of issues, inspired by the public's renewed interest in county government. Council has taken a deeper look at the concerns brought to their attention by citizens, including conducting a safety analysis for pipelines, forming a subcommittee to address the challenges of stray animals in the County and launching a new, easier to use website which includes more videos and links to key documents and resources.
During the address, Council also commended the County's excellent school districts, outstanding Intermediate Unit, and institutions of higher education, highlighting the tremendous growth and development at local colleges and universities.
The County was proud to announce some advances in technology. Several county departments have worked to include updated technology in their offices and online to make services and information more accessible and more convenient for residents.
The Delaware County Court of Common Pleas and the Office of Judicial Support (OJS) launched E-filing for non-family civil matters last summer. Delaware County now offers attorneys and self-represented litigants the ability to electronically file documents and pay filing fees over a secured website.  E-Filing for family law cases will soon be available to attorneys and self-represented litigants.
The Register of Wills Office now offers online marriage applications and created a new online probate application process. The Controller's Office has an area online where financial information, including Comprehensive Financial Reports, are now available online. The Delaware County Library System offers online library card registration and Pronunciator, where residents have access to basic and advanced language learning courses in over 80 languages through activities, drills, quizzes, interactive coaching, and live practice with native speakers. The program is free to residents with a Delaware County library card.
Recently the County launched a new website: delcopa.gov
The new site is more modern, more mobile friendly and includes more videos and links to documents and resources. A new section titled "Live, Work, Play" highlights why Delco is a great place to live, work and enjoy the outdoors, entertainment and restaurants.
The entire 2019 State of the County address is available on the county's website:
www.delcopa.gov/publicrelations/releases/2019/pdf/2019StateoftheCounty.pdf
Video of the State of the County address can be found here: https://vimeo.com/333199224
---
2019 State of the County Address: "Expansion and Advancement Across the County"
Delaware County Council partnered with the Delaware County Chamber of Commerce to present the 2019 State of the County address at the Drexelbrook on April 26. This year's theme was "Expansion and Advancement Across the County," with a focus on new development and businesses throughout the County, open space, and addressing concerns from the public.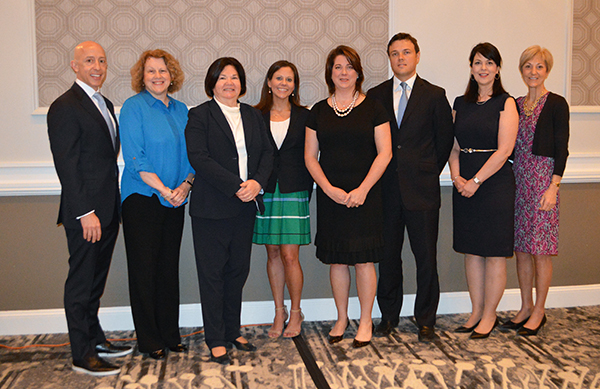 From left: Councilman Brian Zidek, Register of Wills Mary Walk, Controller Joanne Phillips, Delaware County Chamber of Commerce President Trish McFarland, Vice Chair Colleen Morrrone, Councilman Kevin Madden, District Attorney Katayoun Copeland and Executive Director Marianne Grace.