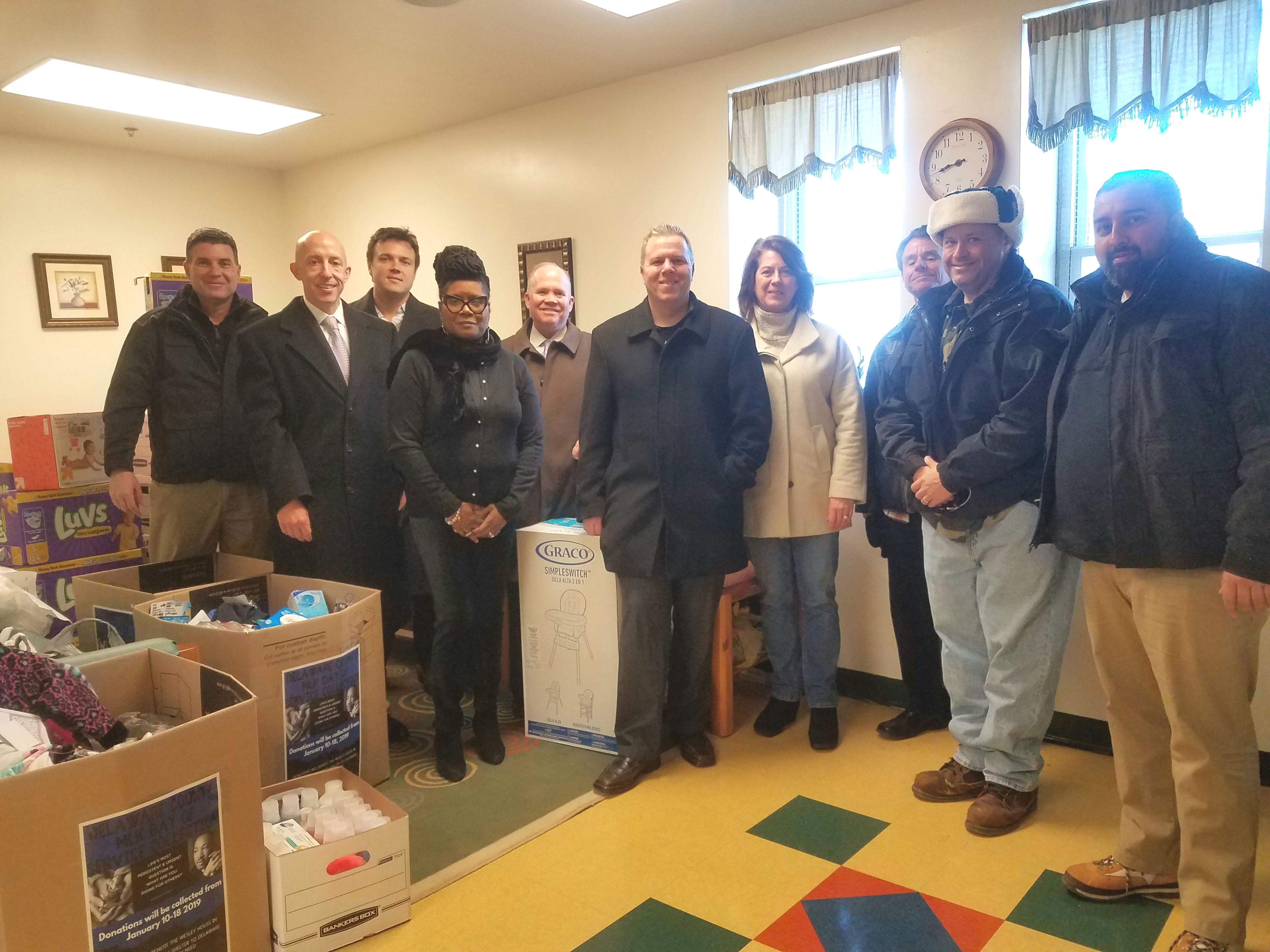 From left: Delaware County Emergency Services Director Tim Boyce, Councilman Brian Zidek, Councilman Kevin Madden, Wesley House Director Sheiletta Corporal, Chairman John McBlain, Councilman Mike Culp, Vice Chair Colleen Morrone, Chief Executive Officer of Community Action Agency of Delaware County, Ed Coleman, Delaware County Emergency Services Special Operations Commander Rob Narcavage and Delaware County Emergency Services Special Operations Program Coordinator, Inder Baines
---
Hundreds of Delaware County employees participated in a "Day of Service" project
Delaware County Council, joined by members of Delaware County Emergency Services delivered boxes of toiletries, diapers, and highchairs to the Wesley House shelter in Chester on Jan. 21. The items were donated by Delaware County employees as part of the County's Day of Service in honor of Martin Luther King Jr. Donations were collected throughout the County at various County buildings including the Government Center, the 911 Center, Fair Acres, the Delaware County Office of Services for the Aging (COSA), Children and Youth Services in Upper Darby and Eddystone, the Office of Workforce Development and the Delaware County Prison.
Dozens of boxes filled with items including shampoo, soap, toothbrushes, toothpaste, razors, body lotions, and diapers were donated. The County also donated 3 new highchairs, which were identified to be a need from the shelter.
The Wesley House is home to women and children throughout the County in need of shelter due to abuse, financial hardships and other situations. They are currently housing over 30 women and over 20 children.
"On behalf of all of Council, thank you to all of our employees who participated in our Day of Service project this year," said Delaware County Council Chairman John McBlain. "Your act of kindness is a tribute to Dr. King's legacy of service to our community. Council was honored to participate and join our employees in giving back to our community."
The Wesley House is a partner of Community Action Agency of Delaware County, who works to provide shelter and food to residents in need. Information on resources available and also ways to donate to Community Action Agency of Delaware County can be found here: www.caadc.org