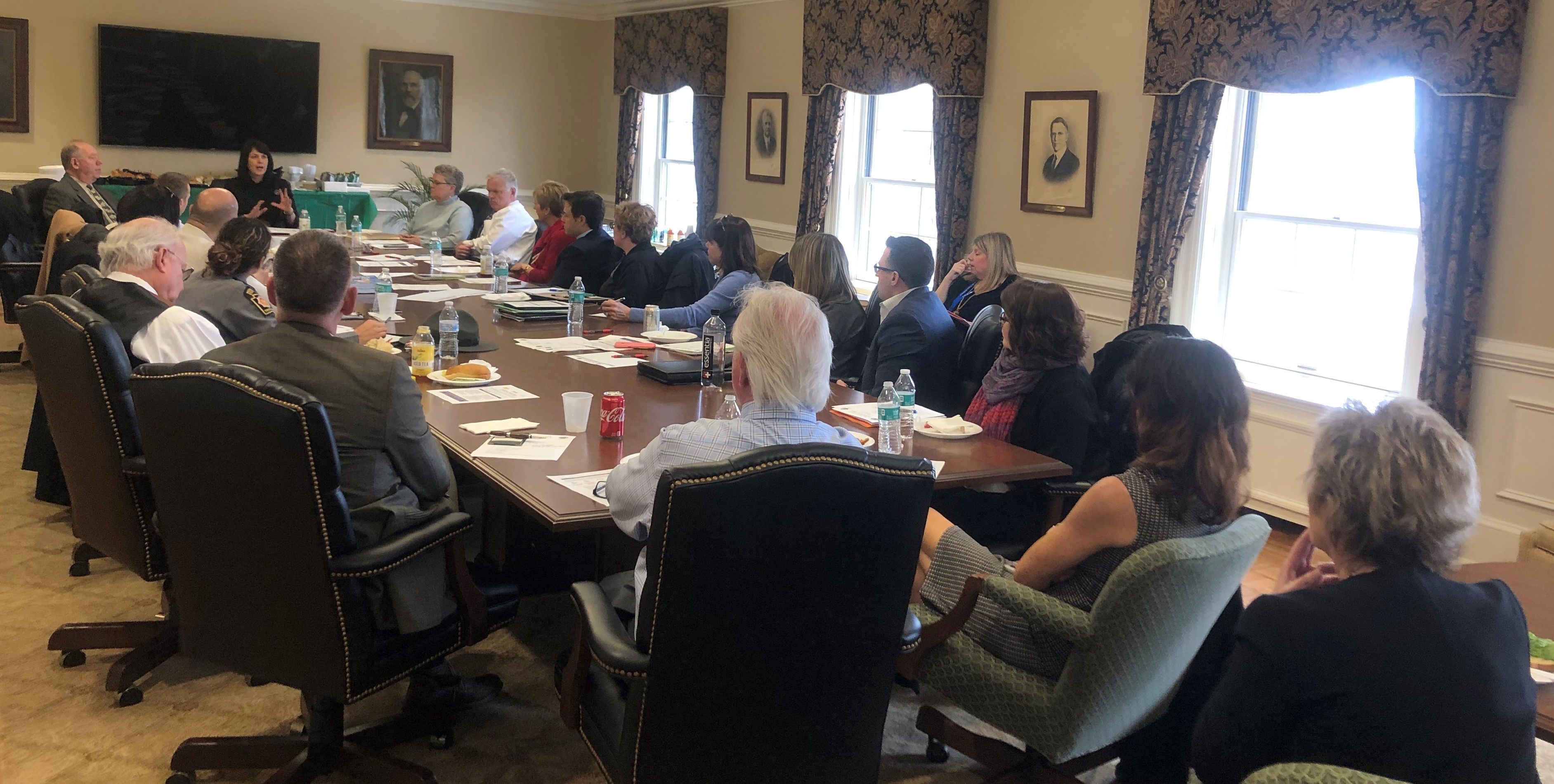 ---
As part of the continued and collaborative effort to address opioid and prescription drug abuse, the Delaware County Heroin Task Force held its first meeting of the year. Formed in September 2012 and chaired by District Attorney Katayoun M. Copeland, the Delaware County Heroin Task Force is comprised of county and government leaders, the judiciary, healthcare professionals, treatment providers, law enforcement, individuals in long-term recovery, community organizations, the Delaware County Intermediate Unit (DCIU), and business leaders.
During the meeting, an update and overview was provided including upcoming initiatives and areas of continued focus going into the New Year. Among the key updates covered was the countywide law enforcement Narcan program that began in November 2014. Since its inception, a total of 1,409 individuals have been saved with the use of Narcan by police. Additionally, Delaware County has seen a reduction in the number of opioid-related deaths over a one-year span. In 2018, there was a total of 155 opioid related deaths would as compared to 230 opioid related deaths in 2017.
District Attorney Copeland noted that the Heroin Task Force has made great strides over the past year, and will continue to seek ways to save lives and also restore families and the community. "Our Heroin Task Force works to be proactive and forward thinking, and as we face each hurdle, we work with our partners including our schools, community leaders, the medical community, and law enforcement, while also applying best practices and proactive measures within our criminal justice system," said District Attorney Katayoun Copeland. "With that in mind, we recognize that in addition to connecting individuals with treatment, there is a need to help individuals become contributing members of the community through programs like Second Chance Employment."
Through a collaborative effort with Delaware County's Office of Workforce Development, Educational Data Systems (EDSI), and the Delaware County Chamber of Commerce, a workforce reintegration program known as Second Chance Employment focuses on assisting individuals whose crimes are rooted in drug addiction find gainful employment. Second Chance Employment was the first of its kind in the state and one of only a few in the country. The pilot program initially targeted women currently in treatment at MVP Recovery, a community that offers a safe, sober, and structured living environment.
Through the Second Chance Employment program, these individuals receive workforce development training including assistance with resume writing, career counseling, and interviewing skills. The program participants are also connected to employment opportunities and job placement. Since the program's inception one year ago 23 clients have been officially enrolled, and 17 of them have obtained employment to date.
The program is now open to all Delaware County businesses and residents. Those interested in learning more about Second Chance Employment can call 610-876-4855.
Part of the effort of the Heroin Task Force also includes expanding the availability of Narcan to the public. Most recently, the District Attorney launched an initiative to install Narcan in AEDs located in county buildings, and is currently working with colleges and universities to expand the program to install the life-saving drug on their campuses in spring 2019.
Part of the effort includes reducing the availability of prescription drugs. The Task Force also will continue its efforts to collect and safely dispose of unwanted, expired medications. This was an initiative that began in October 2013 and was expanded with the creation of the Mobile Drug Collection Unit through the District Attorney's Criminal Investigation Division, which provides mobile drug boxes and a collection van available to businesses and organizations upon request with plans to be at various community events this spring. So far, a total of 14 tons of drugs have been collected through the program. Additionally, plans to hold the 5th Annual Community Day, celebrating drug prevention, were discussed with the event taking place on Saturday, April 20, 2019 in Rose Tree Park from 11:00 am until 2:00 pm.
Part of the focus of the Task Force includes taking a continued a holistic approach to criminal justice and providing assistance to those who minor crimes are rooted in drug addiction through restorative justice programs and treatment courts including Delaware County Court of Common Pleas Second Chance Court under the supervision of Judge John P. Capuzzi and Drug Treatment Court under the supervision of Judge Frank T. Hazel. So far in two years, through the Second Chance Court, sixty individuals have been connected to treatment. Since its inception, 217 individuals have graduated from Drug Treatment Court.
The Delaware County Task Force also is continuing its effort of connecting residents to treatment through partner organizations such as Crozer First Steps Recovery Center and through the Certified Recovery Specialist (CRS) program, and recovery houses and partner organizations such as MVP Recovery. CRS specialists are available to residents 24-hours a day, 7-days a week. Since the program started, the specialists have engaged and outreached to more than 1,400 patients and hundreds of family members of friends. Delaware County residents can reach a CRS by calling: 610-497-7278.