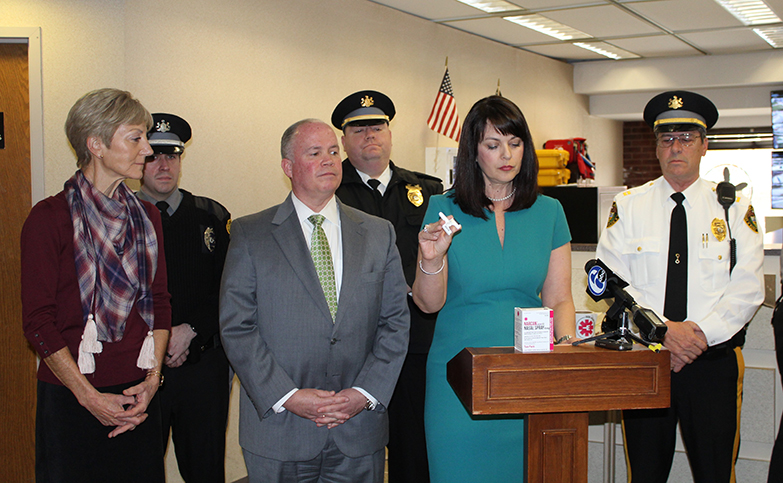 Joined by members of the Delaware County Heroin Task Force and first responders, District Attorney Katayoun M. Copeland announced today that Narcan nasal spray, an opioid reversal medicine, is now readily accessible to the public and included in automated external defibrillator (AED) cabinets at the Delaware County Courthouse and Government Center in Media, including the District Attorney's Office and the Criminal Investigation Division (CID), in addition to all Delaware County buildings, enabling anyone who is nearby an overdose victim to potentially save their life.
"Our Heroin Task Force works to be proactive and forward thinking while applying best practices within our criminal justice system. We also provide resources and try to find solutions that make sense," said District Attorney Katayoun Copeland. "We think of Narcan like a life vest-- while it by no means fixes the greater problem, it can save a life in times of emergency. With that in mind, we recognize that in addition to providing this life-saving drug, we need to address the root cause of the problem and take a holistic approach to treatment by connecting residents to drug treatment court, recovery programs and workforce development."
Narcan, also known as naloxone, is an opioid antagonist that is easy to administer and quickly reverses the side effects of an opioid overdose with no side effects when administered to someone who is not suffering from an overdose. The Narcan kit, manufactured by Adapt Pharmaceutical and provided through grant funding from the Heroin Task Force and the District Attorney's Office, includes two 4-mg doses with step-by-step instructions to assist anyone in administering the nasal spray. By making Narcan available and encouraging greater accessibility to the medicine in an emergency, the Delaware County Heroin Task Force, chaired by District Attorney Katayoun Copeland, also plans to provide Narcan to all universities and colleges in Delaware County by the end of the year.
Since its inception in 2012, the Delaware County Heroin Task Force has received national and statewide recognition as a model program, and has been a leader on various initiatives, including being the first in Pennsylvania to implement a countywide law enforcement Narcan program. In just four years, police officers in Delaware County have reversed more than 1,300 overdoses with the use of this life-saving drug in addition to the thousands of lives saved by EMS first responders.
So far this year in Delaware County, there have been total of 181 drug related deaths, 136 which have been opioid related. As compared to this time last year, there were 228 overall drug related deaths, and 208 opioid related in October 2017. While the number of drug-related deaths is lower from this time last year, more and more overdose deaths are the direct result of fentanyl.
According the Delaware County Medical Examiner's Office, the majority of drug related deaths in Delaware County are opioid related, with over 50 percent of the drug related decedents having fentanyl in their system. Even more concerning is that there have been three confirmed cases of 3-Methylfentanyl, an even deadlier form of the drug. Authorities note that individuals who overdose on synthetic opioids may require two doses of Narcan, which is provided within the Narcan kit.
In an effort to provide training to the public, District Attorney Copeland is also partnering with communities across Delaware County to provide free Narcan kits and overdose response training to individuals who work in recovery and also the general public. On November 1, 2018, a free Narcan training was provided at the Chester City Hall in partnership with the Delaware County Heroin Task Force, District Attorney Katayoun M. Copeland, the Chester Reentry Commission, and the Office of Community Liaisons Department Civic Advisory Council. To schedule a free Narcan training, please call the District Attorney's Office at 610-891-4168.
To learn how to respond to an overdose emergency and receive online training, individuals can visit the District Attorney's website at www.delcoDA.com.