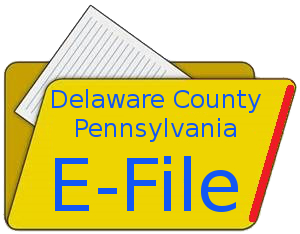 Click the Above Link to Proceed to E-Filing
Effective July 30, 2018, Delaware County is pleased to offer electronic filing ( E-Filing) and payment of filing fees through the Office of Judicial Support- Civil Division case management system. Attorneys and Self Represented Litigants may use the system. For the first 90 days, this will only be available in civil (non-Family) cases on a voluntary basis. After 90 days, E-filing will be mandatory in civil cases. E-Filing for family law cases is expected to be made available to attorneys and self represented litigants sometime after the implementation of civil E-Filing. You can read the Local Rule here.
You are also able to submit an application for continuance of a scheduled hearing in an arbitration case, license suspension case or a motion to be heard by the Court on a miscellaneous list.
It is the decision of the Delaware County Court of Common Pleas and the Office of Judicial Support that pleadings related to the following will not initially be electronically accepted by OJS:
Emergency petitions/motions, including requests for injunctions, application for Stay of proceedings ; or
Appeals from the decisions of a Magisterial District Court pursuant to MDJ R.C.P 1002 through 1008.
Support as defined in Pa.R.C.P 1910.1 through 1910.50 and 1930.1 through 1940.9
Custody, Partial Custody and Visitation of Minor Children pursuant to Pa.R.C.P 1951.1
Special Relief pursuant to Pa.R.C.P. 1913.13
Actions for Divorce or Annulments of Marriage pursuant to Pa.R.C.P. 1920.1
Certified Zoning records including plot plans, blueprints under Delaware County Local Rule 27
Protection from Abuse Actions pursuant to Pa. R.C.P 1901 through 1905
Petition for Writ of Seizure pursuant to Pa. R.C.P. 1075
Petition to Postpone and/or Continue Sheriff's Sale pursuant to Pa.R.C.P 3132
Petition to appoint a Constable
An Appeal from a Denial of a Right To Know Request under Pa. R.J. A. 509
A Claim for Exemption pursuant to Pa.C.S 3123.1
Petition for Appeal from Suspension of Operating Privileges
Denial of Driver's License
Suspension of Motor Vehicle Registration
Document Specifications
Please be advised of the following requirements:
Documents must use the universal PDF standard
Documents shall not be more than 25 megabytes (mb)
Files that exceed 25 mb must be split into multiple files not to exceed 25 (mb)
Color shall be black and white
Resolution shall be 300 dpi
Document size is limited to 8 ½ inch by 11 inch
Any font that is not part of the Microsoft default font list must be embedded in the PDF document
PDF properties (title, author, subject, and keywords) should be removed from the document
Documents cannot be password protected or encrypted
Document names shall not include special characters such as /:*?<>
ATTENTION: Service of Original Process
FILING MOTIONS/PETITIONS/STIPULATIONS THROUGH E-FILE CIVIL (NON-FAMILY) MOTIONS PRACTICE IN DELAWARE COUNTY
E-Filing is permitted at all times when the system is available. The filing deadline for any document filed electronically is 11:59:59 EST/EDT. CAUTION_- There will be unavoidable times the E-File system will not be operational due to system maintenance , upgrades or unforeseen technical interruptions. If E-Filing is unavailable at the time you attempt to file a document, please file the document in person at OJS. If you believe the unavailability of E-Filing prevented a timely filing to your prejudice, you may submit a motion to the Court within ten (10) days of your unsuccessful attempt to file a document. The motion shall state the date, time of the first unsuccessful attempt to file the document electronically.
During this period of transition from paper filings to E-filings, the Office of Judicial Support stands ready and prepared to work with you to make this process as seamless as possible. If you encounter any difficulties, you may always contact us during business hours at (610) 891-4386, or any time at DelcoEfile@co.delaware.pa.us