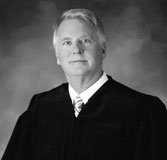 Judge Anthony D. Scanlon was appointed to the Court of Common Pleas by Governor Tom Corbett and swore his Oath of Judicial Office on July 17, 2014. Judge Scanlon was elected to a full ten-year term as Judge of the Court of Common Pleas in November, 2015.
Judge Scanlon is a 1978 graduate of Pennsylvania State University with a Bachelor of Science degree and a 1984 graduate of Widener University with a Master in Business Administration degree. He obtained his Juris Doctor from Temple Law School in 1988. He was admitted to practice law before the U.S. Supreme Court, Supreme Court of Pennsylvania, Superior Court of Pennsylvania, Commonwealth Court of Pennsylvania, Common Pleas courts of Pennsylvania and the U.S. District Court for the Eastern District of Pennsylvania and New Jersey.
Prior to his Appointment to the Court of Common Pleas Judge Scanlon served as a Staff Attorney in the Municipal Court Unit for the Philadelphia District Attorney's Office from 1987 to 1989. He also was Mental Health and Drug and Alcohol Solicitor for Delaware County from 1992 to 2004 while also serving as Trial Attorney for the Public Defender's Office of Delaware County. In 2004, Judge Scanlon was elected as Magisterial District Judge of Springfield Township and held that position until his appointment to the Court of Common Pleas of Delaware County.
Judge Scanlon is currently assigned to the Criminal Section of the Court.
Judge Scanlon and his wife, Barbara, have three sons.