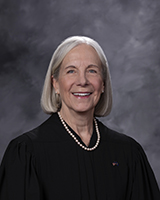 Judge Ann A. Osborne was selected in 1997 by the voters of Delaware County to join the Court of Common Pleas for a ten year term, which began January 2, 1998. She was retained in 2007 and began serving a second ten year term in January 2008.
In 1991, Judge Osborne was appointed by Delaware County Council to the position of Sheriff of Delaware County to serve the balance of the term of her predecessor, George Hill. She was then elected in 1992 to a full four year term as Sheriff. While in that office, she was selected by the Pennsylvania Sheriffs Association as a member of its executive committee and also served as an instructor for the Deputy Sheriffs Training Commission.
Judge Osborne's public service began in 1983, when she was appointed as an Assistant District Attorney for Delaware County to represent the Commonwealth at all levels of the state and federal courts. Immediately preceding appointment to that position, she had served from 1980 to 1983 as staff counsel to the Pennsylvania District Attorneys Association.
Before beginning her legal career, Judge Osborne was a teacher in the elementary grades. Since becoming a lawyer, she has taught at Immaculata College, Villanova University and the Delaware County Municipal Police Academy. She is a graduate of Springfield College in Illinois and Chicago-Kent College of Law. Judge Osborne has also been active in many community and charitable organizations. She and her husband, John, reside in Wayne.