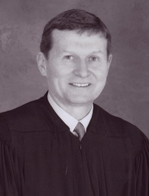 Judge G. Michael Green took his oath as a Judge of the Common Pleas Court of Delaware County, Pennsylvania in January 2012. On January 1, 2019, Judge Green began his assignment in the Criminal Section of the Court, where he currently serves. In September 2015, Judge Green was selected to serve as a member of the Pennsylvania Supreme Court Committee on the Rules of Evidence. The Judge is serving his second term and is the sole judicial member of the Rules of Evidence Committee.
Prior to his work as a trial judge, Judge Green served as the District Attorney of Delaware County from 2002 to 2011. While District Attorney, Judge Green was selected to serve as a member of the Board of Advisors to the Asian Federation of the United States, as Chief Executive Officer of the Pennsylvania Internet Crimes Against Children Task Force, and as a member of the fifteen-person Advisory Committee to the FBI National Regional Computer Forensic Laboratory Program.
Before his assignment to the Criminal Section, Judge Green completed an assignment in the Family Section during 2012, and from 2012 to 2018, the judge completed his assignment as a trial judge in the Civil Section of the Court of Common Pleas of Delaware County. Judge G. Michael Green is a graduate of Villanova University and the Villanova University Charles Widger School of Law.
From 1980 to 2002, Judge Green engaged in the private practice of law.