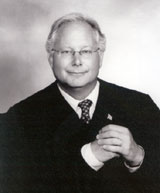 Judge Barry C. Dozor was appointed to the Court of Common Pleas by Governor Tom Ridge and swore his oath of judicial office on December 13, 2001. Judge Dozor was then elected for a full judicial term that began on January 5, 2004. On November 5, 2013 Judge Dozor was retained for an additional judicial term of 10 years. Judge Dozor is a lifelong resident of Delaware County, a graduate of Haverford High School, West Chester University (B.A.) and the Widener University School of Law (J.D.). Judge Dozor has attended and was awarded a Certificate from the National Judicial College and participates in many academic and professional forums.
Before his appointment, he was in private practice as a partner in the Law Office of Dozor and Auslander, also served as a Marple Township Commissioner for eighteen (18) years, a Municipal Solicitor for the Boroughs of Prospect Park, Norwood, Collingdale and Tinicum Township; as well as serving as a Zoning Hearing Board Solicitor for Marple Township and the Borough of Darby. He has been active in many civic and charitable organizations and serves on the Council of Trustees of West Chester University of Pennsylvania.
In addition to the Delaware County and Pennsylvania Bar Association, Judge Dozor is a member of the American Bar Association. Having been a practicing attorney for 26 years before becoming a Judge, Judge Dozor was admitted to practice before the U.S. Supreme Court, the U.S. Court of Appeals for the Third Circuit and the U.S. District Court for the Eastern District of Pennsylvania.
Judge Barry C. Dozor and his wife, Rose, reside in Marple Township, and they have three children.
Having served in the Family Law and Criminal Trial Sections, Judge Barry C. Dozor is presently serving as Liaison Judge for the Civil Trail Section.