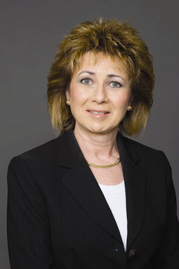 Judge Linda A. Cartisano was elected by the voters of Delaware County to the Court of Common Pleas in the November, 2009 election. She was sworn in to a ten-year term on January 4, 2010. She is currently assigned to the Family Law Section where she presides over domestic, juvenile and children and youth cases.
Judge Cartisano served in the Solicitor's Office in the City of Chester for 30 years, being named City Solicitor in 1996, a position she held until her election to the bench. In addition to maintaining a private practice, she served as solicitor to the Darby Creek Joint Authority, Upland Borough and the Chester Redevelopment Authority, as well as Zoning Board Solicitor for the Borough of Norwood and Chester Township. She was an Assistant Solicitor in the Delaware County Solicitor's Office for several years. Prior to serving in the County Solicitor's Office, she was appointed as a Custody Conciliator for the Delaware County Courts.
Judge Cartisano also served two terms on Delaware County Council from 2002 through 2009. On January 7, 2008, she was chosen by her fellow Councilmembers as Chairman of Council, a position she held for two years.
Her community service includes many years as a volunteer Board Member of the Delaware County Intermediate Unit, the Chester Upland School Board, the Chester Wallingford Chapter of the American Red Cross and the Media Theater. She has received numerous awards and honors from community groups and organizations. Judge Cartisano is a graduate of Widener University and Temple University School of Law.