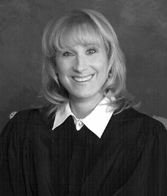 Judge Mary Alice Brennan was elected by the citizens of Delaware County to a ten-year term on the Court of Common Pleas in the November, 2007 election and swore her oath of judicial office on January 4, 2008. Judge Brennan is a lifelong resident of Delaware County. She is a graduate of St. Madeline School, Interboro High School, Brigham Young University and the Widener University School of Law.
Judge Brennan was appointed to Delaware County Council in 2002 and was elected in November, 2003 to a four-year term. As a Council member, she served in various capacities, among them improving public safety and voter education.
Prior to her appointment to Delaware County Council, Judge Brennan served for nearly nine years as District Justice in Upper Darby Township. While serving in that capacity, she was appointed by the Pennsylvania Supreme Court to serve on the Intergovernmental Task Force to study the District Justice System. Judge Brennan also was appointed by the Chief Justice to the District Justice Task Force Ad-Hoc Committee to serve for the purpose of proposing implementation strategies to the improved operation of the District Court system.
She was admitted to the Bar in 1986; and in addition to a general practice of law, she has served various solicitorships and as a Public Defender.