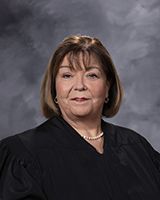 Judge Margaret J. Amoroso was elected by the citizens of Delaware County to a ten-year term on the Court of Common Pleas in November, 2015 and was sworn into office on January 4, 2016.
Judge Amoroso is a lifelong resident of Delaware County. She practiced law for more than 30 years as a general practitioner handling family, juvenile, criminal, estate and civil matters. Judge Amoroso also served as an Assistant County Solicitor for Delaware County since 1991. In that capacity, Judge Amoroso handled matters of neglect and abuse for Children & Youth Services, as well as Department of Public Welfare appeals. She was a member of the Delaware County Children's Roundtable, the Pennsylvania Children & Youth Solicitors Association and the Delaware County Bar Association Fee Dispute Committee. In 2012, she was appointed as a member of the Pennsylvania Supreme Court Disciplinary Hearing Committee.
In April 2012, Judge Amoroso was elected as a member of the Township Council of Middletown Township in Delaware County where she served until her election to the Court of Common Pleas. Judge Amoroso also served on the Middletown Township Zoning Hearing Board where she was chair from 2005 until 2012.
Judge Amoroso received her J.D. from Dickinson School of Law and graduated magna cum laude from Indiana University of Pennsylvania.