Municipal Officials Directory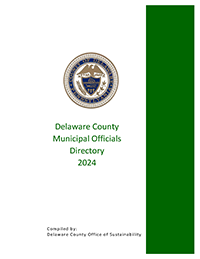 Date Published: February, 2023
View PDF File [29.0mb]
Abstract: This directory provides a listing of local government officials serving the residents of the 49 municipalities of Delaware County, Pennsylvania. It was prepared by the County Office of Sustainability based on information provided by each municipality for use by County and municipal personnel and published at the beginning of each calendar year. We thank the 49 municipalities for enabling us to publish this document by providing the information contained in it.
We rely on municipal governments to supply the data published in this directory and is accurate to the best of our knowledge. Individual listings that include changes reported after the original publication date throughout the year contain the revision date at the bottom right hand side of the listing.
Please report any corrections or changes occurring during the year to:
Delaware County Office of Sustainability
201 W. Front Street, Room 209H
Media, PA 19063
Phone:  (610) 891-4000
Email:   SustainDelco@co.delaware.pa.us
Geographic Area: Countywide

Questions about a specific listing should be directed to the Municipality using the contact information provided at the top of the listing.