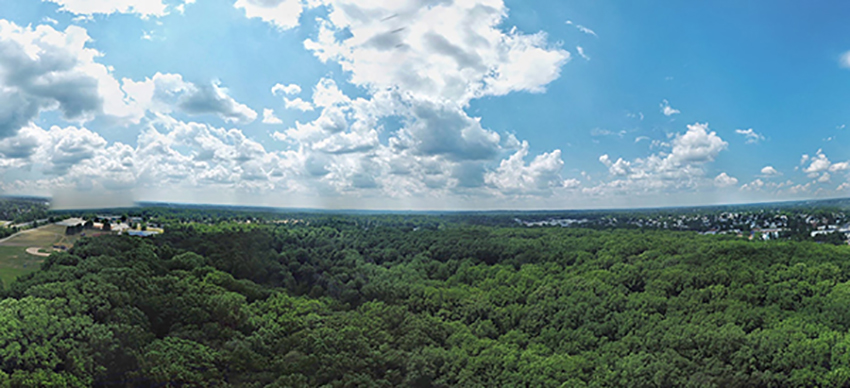 Take the New Park Survey | Open Houses | Our Engagement Video | New Park News Archive
The County's newest and largest park will be located on the former Don Guanella School site near Reed and Sproul Roads in Marple Township. The future park consists of 213 acres—one of Delco's largest forests—and is home to woodlands, wetlands, and many wildlife species.
The creation of a park on the Don Guanella tract is a once in a lifetime opportunity to create an open and accessible public space that will provide immediate and ongoing economic, environmental, and quality of life benefits to the Delaware County community.
Much more to come in February regarding next steps for the park, including information about community feedback initiatives, open houses, surveys, and more!
Master Plan Underway
In 2022, Delaware County began the park master planning process.
The County retained an experienced award-winning team of Toole Recreation Planning, JMT (Johnson, Mirmiran and Thompson), Natural Lands, and Urban Partners to collaborate with county department managers and staff in creating the master plan.
The planning team includes landscape architects; environmental scientists; community, parks, and recreation planners; transportation specialists; trail and active transportation specialists; engineers; and financial and economic development professionals.
Rooted in a commitment to enthusiastic civic involvement, team members have earned national, state, and municipal awards for public outreach and engagement that resulted in making communities better places in which to live, work, and play.
Public Engagement: Take our Survey!
The County has launched a public opinion survey to find out what residents would like to have in the new park.
Information provided by residents at our open houses and via the survey will be used in developing the park master plan. Delaware County's planning team of Toole Recreation Planning, JMT, Natural Lands and Urban Partners is collaborating with County officials in developing the master plan with the draft expected in the Spring.
Public Engagement: Open Houses
Delaware County is holding two pop-up open houses for the week of February 19.
On Tuesday, February 21, from 6 p.m. to 8 p.m., an open house will be held at Chester City Hall in the Community Room, located at 1 East 4th St., in Chester, PA.
On Wednesday, February 22, from 6 p.m. - 8 p.m., another open house will be held at the Upper Chichester Community Center, located at 1950 Market St., in Boothwyn.
Attendees will be able to engage our team, ask questions, share their suggestions and concerns, view displays, and watch a project video. A children's table will also be set up to hear what our youngest Delco residents would like to have in their new park!
No registration required – we hope to see you there!
January 14 Open House at Cardinal O'Hara High School
Delaware County held a public Open House on Sat., Jan. 14 to hear ideas and feedback from the community about the Master Plan for the new County park, located on the site of the former Don Guanella School property and adjacent to the Cardinal O'Hara High School in Marple Township.
An estimated 500 residents attended the Open House, which provided an engaging forum for residents, County officials, and members of the Master Plan Advisory Committee to discuss a host of interesting ideas that will be considered in creating the park master plan.
The open souse was the first formal opportunity for members of the public to provide feedback to help shape the future park since the County announced its intention to acquire the 213-acre Don Guanella parcel in June of 2021.
Attendees were invited to visit 10 different stations with maps and materials designed to capture ideas on outdoor recreational experiences and conservation of this important site. To envision the future, attendees were invited to express their interest in innovative facilities found in popular parks nationwide that could be offered in the new park.
Photos depicting woodlands, trails, nature areas, art installations, children's programming, food trucks, amphitheaters, play spaces, campgrounds, gardens, seasonal lighting displays, and more were displayed for attendees to rate. The County presented a short informative video about the park site that looped throughout the day. Children enjoyed the Kids' Corner, where they used their imagination to draw their vision of the new park.
Attendees were also encouraged to share their own ideas. Sticky notes and pens were provided throughout the many stations, a videographer interviewed residents about what the 213-acre park could be in their own words (a short video will be produced in the coming weeks from these responses), and children were invited to a Kids' Corner where they were asked to use their imagination to draw their vision of the new park. and the planning team of Toole Recreation Planning, JMT, Natural Lands and Urban Partners were on hand to listen to the community's ideas and answer questions about the project.
Our Open House Video
Attendees were not only encouraged to share their own ideas in writing and through interactive stations but were also interviewed for a short video that shows want residents want in the new 213-acre park!
Watch and enjoy!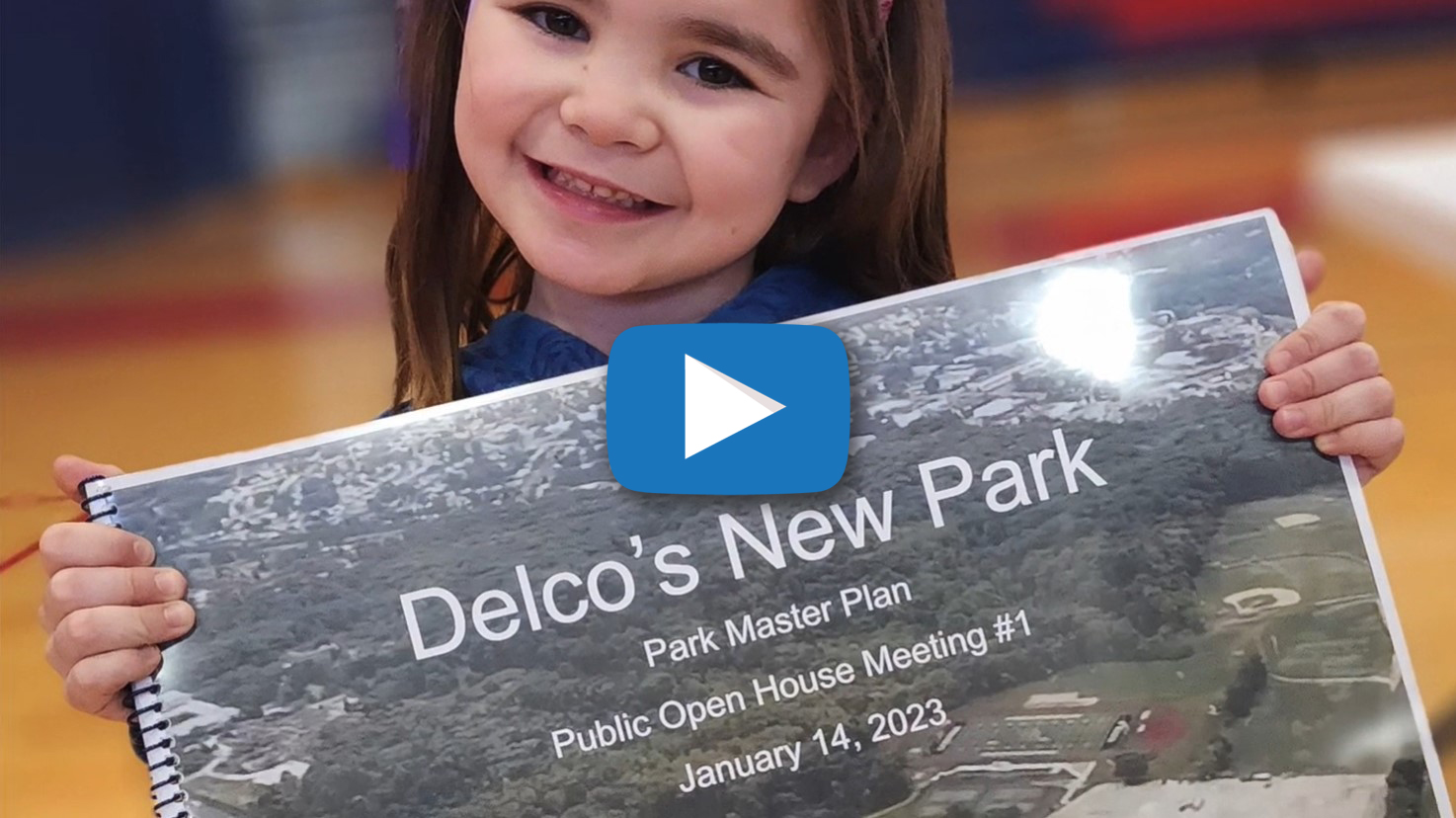 Delco's New Park Open House Video
January 14, 2022
Produced by Mark Gambol/MG Pictures, ltd. and Chris Emmanouilides/Emmanouilides Productions
Delco Park Open House Video [running time: 4 minutes]
---
New Park News Archive:
Delaware County Residents Invited to Share Feedback and Ideas on Delco's New Park - 2/17/2023
Public Open House for Delco's New Park Master Plan to be held January 14 - 12/30/2022
Delaware County Seeking Volunteers to Help Develop Don Guanella Master Plan – 6/30/2022
The Economic Impact of Protected Open Space in Delaware County, Pennsylvania - 4/5/2022
Delaware County Council Takes Next Step to Transform Don Guanella Site into the
County's Largest Public Park - 3/17/2022
Delaware County Moves to Create Largest County-Owned Park - 6/15/2021