FIND A COVID-19 TEST SITE AND REGISTER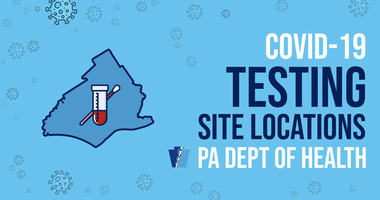 If you suspect that you or someone you know has been exposed to the Coronavirus, or if you believe you may be experiencing symptoms of COVID-19, please review this page for Delaware County COVID-19 testing news and information. If you are experiencing severe and/or persistent pain, difficulty breathing, pressure in the chest or chest pain, bleeding, confusion, or bluish lips or face, please call 911 or go to your closest Emergency Room.
COVID-19 Test Sites in Delaware County
There are many active COVID-19 test sites in Delaware County.
Most of these test sites are run by local, regional and national health organizations, pharmacies, and other healthcare providers, such as Rite Aid, CVS, Main Line Health, Delaware County Memorial Hospital, Walgreens, Vybe Urgent Care, etc.
If you are having trouble locating a testing facility, or have questions about testing, please contact your health care provider. You can also contact the Delaware County COVID-19 Call Center, 484-276-2100, Monday through Friday, from 8:30 a.m. to 4:30 p.m., with questions about testing, vaccines, masks, etc.)
Delaware County-Sponsored Public Testing Site Details
Yeadon Wellness Center
125 Chester Avenue, Yeadon, PA 19050
Wednesday, July 14
2 p.m. to 5 p.m.
J. Lewis Crozer Library
620 Engle Street, Chester, PA 19013
Thursday, July 15
2 p.m. to 5 p.m.
Test Types at a Glance
PCR (Nasal Swab)
This test type detects current infections.
Polymerase chain reaction (PCR) tests are the most widely used test to diagnose COVID-19 right now is a molecular test which detects genetic material (ribonucleic acid, or RNA) from the virus. Sometimes people refer to these tests by the way they are collected, such as nasopharyngeal swab test, nasal swab test, or oropharyngeal swab test.


---
Delaware County utilizes the "Google Translate" service and accepts no liability for errors or omissions in any translation of the original English text.